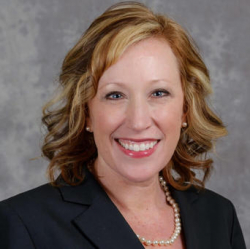 Latest posts by Christa N. Smith, Au.D., CCC-A
(see all)
An adventure awaits with months of planning and money spent. Traveling is exciting, and there's no reason hearing aids should ruin your trip. Read these helpful tips on traveling with hearing aids and enjoy your time away from home.
Tips for Flying With Hearing Aids
There are no rules or regulations limiting the number of batteries you are allowed to travel with. You're allowed to carry spare alkaline and rechargeable batteries in your carry-on and your checked baggage, and you can keep them in your equipment.
If you are bringing a spare cochlear implant processor, you should keep it in your carry-on because checked luggage is screened with stronger scans, which can affect some settings in the implant's processor.
You cannot carry spare lithium ion batteries. However, you can bring them aboard if they're inside the equipment they power.
Going through airport security can be difficult and frustrating, but your hearing aids should not contribute to the frustration. If you are wearing your hearing aids or have hearing loss, you should notify the TSA security officer.
You can verbally tell the officer, or you can use can use this downloadable TSA notification card to notify the officer discreetly. Notifying the officer will help explain irregularities that may come up in your screening.
After passing security and once you reach your gate, you can inform the flight attendant at the gate of your hearing loss if you're concerned about missing the announcements. Also, if it's available, you can sign up for cellphone text alerts with information regarding gate changes, delays, or boarding calls.
Preventing Issues
Traveling can be relaxing, but the weeks prior are usually hectic, and half the time after leaving you still forget things you.
Additional Travel Tips
Pack plenty of spare batteries and a conversion plug for your heating aid battery charger. If you are traveling abroad, know the voltage and type of outlets used in that country.
Just because you may be traveling does not mean you can stop cleaning your hearing aids. Carrying a cleaning kit is beneficial because you may not be able to find the needed products where you are going.
To avoid losing your hearing aids or missing important information on the flight, do not remove them on the flight.
Bringing a dehumidifier is extremely important especially if you are traveling to a place near water. You won't need a dehumidifier, of course, if you use a battery charger with a drying function.
Pack extra accessories like soft domes, sporty clips, audio shoe, and extra tubing in case your products become damaged or lost.
Before you go on vacation, you should think about going to a hearing professional and consider a quick tune up, programming checks and a professional cleaning. And as you are packing, write down everything you pack to ensure everything comes back with you. The most important part of traveling is to enjoy yourself, so don't let hearing aids get in the way.